What is one of the major requirements of starting a website? A good hosting company. How to decide which is the right hosting for you? Well, you have to consider a lot of factors like your requirements, pricing, performance of the hosting, hosting features offered, reliability and the uptime as well.
Also Check :
With Our
SiteGround Coupons
& Special Discount Offer For New Users Get Upto 75% Off On SiteGround
In this article we will give you an all-round comparison between two of the most sought after hosting companies that are Siteground and Dreamhost.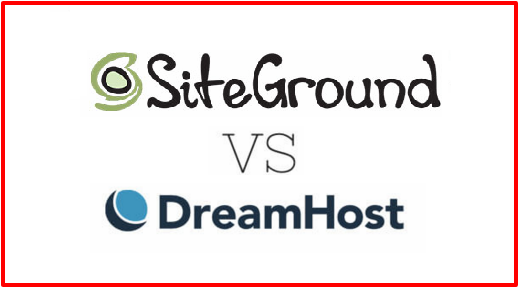 Point #1. About Both Web Hosting – Siteground vs Dreamhost
#1. Siteground:
SiteGround is one of the best web hosting companies which was founded in 2004 and is currently servicing more than 500,000 domains worldwide. Hostings provided by Siteground include shared hosting, cloud hosting and dedicated servers. The company employs over 400 people with the number growing everyday.
#2. Dreamhost:
Dreamhost was founded in 1997 by a small group of friends. It is built on open-source technology and it provides domain registration, web hosting and cloud services to 1.5 million sites, blogs and applications, and supports over 400,000 web designers, developers, content creators, small businesses and entrepreneurs with the power of the Open Web.
Grab SiteGround Hosting 70% Spepical Discount Deal
Point #2. cPanel Comparison Of Siteground and Dreamhost Hosting
Whether you are a beginner or pro,a user friendly cPanel makes life of everyone easier.cPanel allows hosting customers to manage elementary parts of their hosting service, such as their FTP logins and email addresses.
Siteground offers their customers a full feature cPanel which is easy to use. SiteGround has developed a special cPanel theme for their customers named Crystal. It adds a lot of extra functionality that you can't find anywhere else.
Dreamhost does not provide you with a regular cPanel. They have developed their own web panel which too is easy to use but if you are comfortable with cPanel, you might find it hard to switch. Also, you may miss out on many benefits and features cPanel offers.

Point #3. Support Comparison Of Siteground Vs Dreamhost
If you are a beginner, it is quite obvious that you'll be stuck. So one thing that'll you'll need the most is a good customer support. The one which is available 24*7 and solves your queries on time.Today, nobody has the time to wait for a day or two to resolve their queries so both the companies have live chat options that can help you to get in touch with the respective teams quickly.
One drawback of Dreamhost is that you cannot connect with them through call. You'll either have to use live chat option or raise a ticket whereas Siteground offers you with everything.
Both the companies also offer a lot of tutorials that can help you with your queries.

Point #4. Siteground Vs Dreamhost – Pricing Comparison
Pricing is a factor that makes a huge difference when we compare Siteground and Dreamhost. If you are just starting out and don't have a huge budget then you should definitely go for Siteground as their hosting plans start from $3.95 per month. Whereas Dreamhost services are a little expensive side that is you'll have to pay $9.95 per month if you take a year's plan. The cheapest being $5.95 per month but for that you'll have to pay for 10 years.
Siteground have advanced plans too if you plan to expand your business.
Both the companies provide you with a free domain name along with the hosting.

Also Check :
With Our
BigRock Coupon
& Discount Offer For New Users Get Upto 71% Off On BigRock Hosting Plans
Point #5. Performance Comparison – Siteground Vs Dreamhost
Your website needs to have a good uptime if you wish to grow in a short period of time. Both these organisations are at par when it comes to uptime. They both promise 99% uptime and they also make sure that they live it up to their promise. Both Siteground and Dreamhost are highly recommended when it comes to performance.
Grab SiteGround Hosting 70% Spepical Discount Deal
Point #6. Siteground and Dreamhost Hosting Feature comparisons
Below are the features of both hosting providers.
#1 Siteground

Email functionality
Integrated control panel
Free PCI Compliance
Website migration services
WP-CLI Pre-installed
WordPress Special Cache
In house caching service
Free CDN with Each Account
Servers on Three Continents
E-commerce capabilities
Power & Hardware Redundancy
Daily backups
Data backup services
SPAM Experts Spam Prevention

#2. Dreamhost

1-Click Installer
Mobile Website Generator
SSL Certificates
CloudFlare Integration
Hand-rolled Control Panel
Solid State Drives (SSDs)
Automated Malware Scans
Award Winning Support
Grab SiteGround Hosting 70% Spepical Discount Deal
Point #7. Which is easier to set up a website? – Siteground or Dreamhost
Whether a pro or not, you'll be able to setup a website quite easily in both the hostings as they both provide a free domain name which also makes it quicker. It will take you around 10 minutes to setup the website. Siteground has a WordPress pre install which makes it really easy to set up the website even if you are a beginner.

Point #8. Refund/money back Policy differences – Siteground Vs Dreamhost
In this case Dreamhost is a step ahead of Siteground since it offers 97 days money back guarantee whereas Siteground offers a 30 days money back guarantee. The refund option is only available if you have purchased the hosting through credit card.
Grab SiteGround Hosting 70% Spepical Discount Deal
Point #9. Satisfied Customers reviews About – Siteground & Dreamhost
Below are the reviews from customers for both:
#1. Siteground
"Siteground is a remarkable company founded on CUSTOMER SERVICE and QUALITY. Their products are top shelf and I've never worked with a company more eager to serve their customers. They are genuine "servers" (see what I did there?).
I have multiple websites with them and will continue to grow with them as I develop enterprise-level websites. They are a fantastic company, with the best employees I can possible imaging.
I am proud to give them my money. They've earned it, 10 times over!" – User
#2. Dreamhost
Dreamhost has the best uptime in the industry, I can say it proudly because my website has never suffered any lag nor does it crash.
I always get backups in my mail plus their support is always helpful.
They even restored my data from my previous hosting to dreamhost without any additional cost.
I feel pricing they can reduce because I am a long term customer and for them pricing are okay. But if i see in terms of uptime, no one can match their standards.
Simply awesome webhosting, recommended to everyone." – User

Point #10. Which one is better – Siteground or Dreamhost? Conclusion
So this is the last part of Siteground vs Dreamhost and we'll like to say that if you are just starting out and don't have a huge budget, you should definitely go for Siteground. Their support is too a step higher than Dreamhost. Looking for save Money on Web Hosting with our SiteGround Hosting Coupons Get Upto 70% Off
Grab SiteGround Hosting 70% Spepical Discount Deal
If You want to Check Our Other Hosting Compare Guides – Siteground vs Bluehost | SiteGround vs HostGator.
Siteground vs Dreamhost – Which one is better?
Summary
Siteground vs Dreamhost – Which one is better?